Events
28 October 2019
17:30 - 19:00
Utrecht University, Drift 25, room 102
Film screening 'Karlstraße 10: In Search for Muslims throughout Interwar Europe' (2019)
From October 28-31, NISIS organizes the annual Autumn School on "Islamic Studies and Middle Eastern Studies in the Digital Age" in Utrecht. Part of the programme is a film screening of Karlstraße 10. This documentary is made in the context of the ERC project Muslims in Interwar Europe by Prof. Umar Ryad. The film screening is open to all. A limited number of places is available. So please register before the 20th of October by sending us an email to nisis@uu.nl.
How were the lives of Muslims in interwar Europe?  Karlstraße 10 starts in an online telephone directory searching for an Arab family name in nowadays Ge
rmany to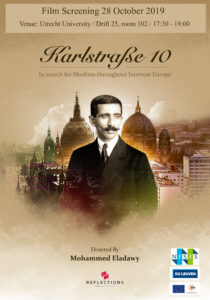 end in telling many stories about Muslims throughout interwar Europe. An Arab-Ottoman officer Zeki Kiram takes on a life journey with an amputated leg in interwar Berlin after he was injured in Sinai during WWI. This moving portrait of a defeated Arab officer in interwar Berlin takes you back in time almost a century ago giving an exciting visualization of life stories of Arabs and Muslims who lived in that crucial time of Europe. Amazing are their encounters with European inter-war ideologies. Karlstraße 10 is an enduring tale of love, politics and arms deals through the lens of unique Arab family archives in Europe. The film dives deep in a story of war victims, religion, culture, mixed marriages, arms deals, mosques, politics and more! Karlstraße 10 is a timeless film, as it makes a point that Arabs in interwar Europe were neither visitors, not colonial victims.
(ERC Starting Grant project NEITHER NOR (336608) – KU Leuven – Belgium)