Past Events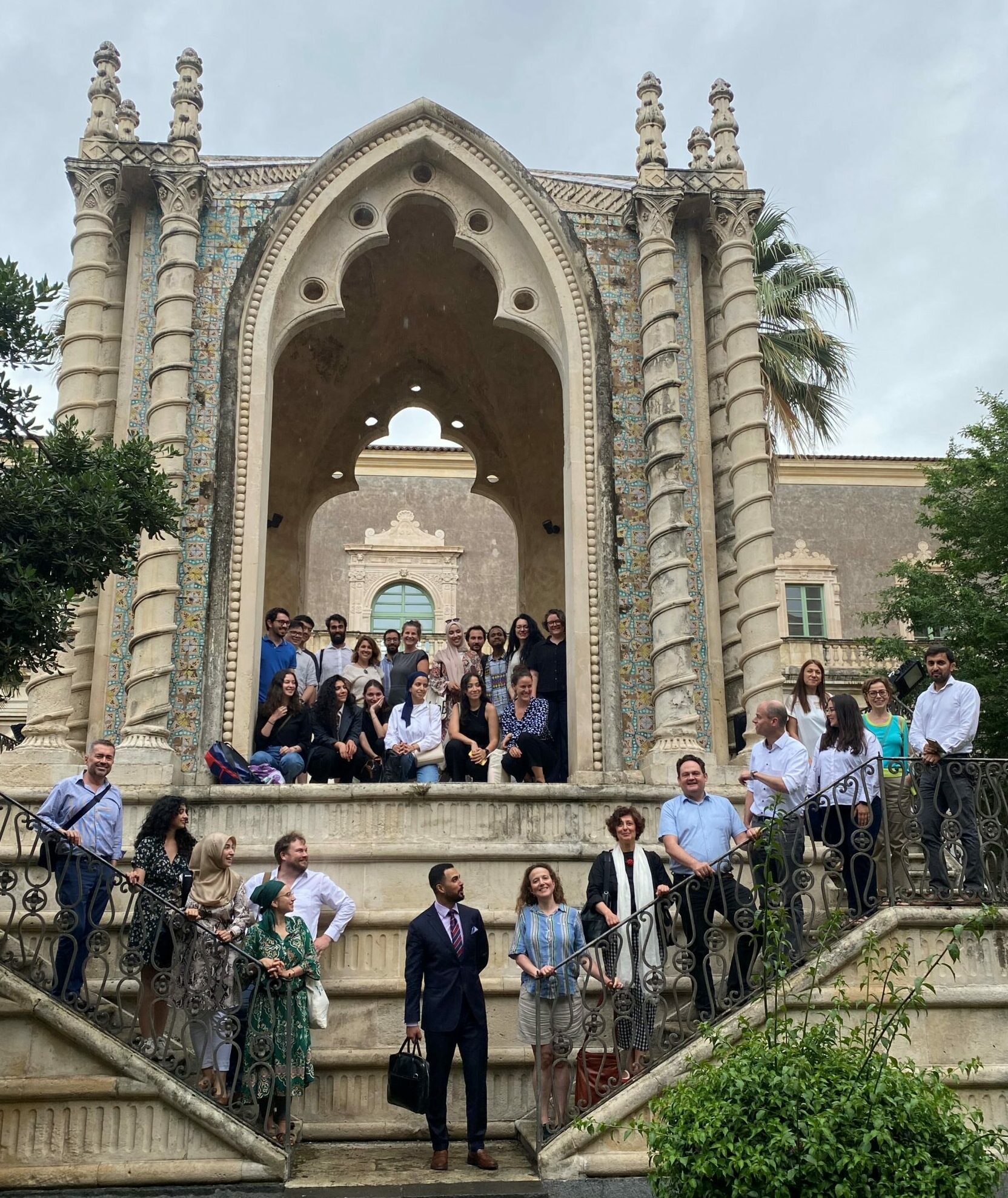 ENIS Spring School Catania  2023 'Shifting Boundaries in Muslim Worlds' 
From 13 until 16 June 2023, NISIS was involved in the annual European Network for Islamic Studies (ENIS) Spring School, themed "Shifting Boundaries in Muslim Worlds" and convened in Catania, Italy. Together with our European partner organisations – the Institut d'études de l'Islam et des sociétés du monde musulman (IISMM, France), the Center for Near and Middle Eastern Studies (CNMS, University of Marburg, Germany) and El Consejo Superior de Investigaciones Científicas (CSIC, Spain) – we gathered at the University of Catania, where we enjoyed keynote lectures, papers presented by PhD-candidates from various European countries (and beyond) and the wonderful city of Catania and the island of Sicily as well.
After warm words of welcome from our hosts, rector Francesco Priolo, director of the Department of Humanities Marina Paino and Mirella Casarino (all from the University of Catania) and Daniela Melfa (University of Messina, formerly of the University of Catania), the first day was kicked off by Roberto Tottoli (University of Naples), who spoke about "Holy Books Across Borders: The Qur'an between the Islamic World and the West". This was followed by Linda Jones (Univerity of Pompeu Fabra, Barcelona), who discussed "Shifting Gender Boundaries in the Study of Premodern Sufi Piety". The rest of the day was dedicated to papers presented by PhD-candidates on a host of issues, all revolving around the common theme of shifting boundaries in Muslim worlds. We closed the day with a great dinner that allowed the participants to get to know each other better.
The latter objective was also central to the second day of the Spring School, 14 June, which we spent going on an excursion to various places in Sicily. After a nice bus ride through the Sicilian countryside, we visited some beautiful churches and a university library, had a wonderful lunch and closed the day with a visit to a local chocolate factory where we watched a demonstration of how chocolate is made. It goes without saying that the offer to sample some of the latter's produce was gladly made use of by everyone present.
The third day, 15 June, was filled with paper presentations by participants and two keynote lectures. The first was given by Mirella Casarino, focussing on Islamic texts from Sicily itself in "Beyond Boundaries in Islamic Sicily: Literary Texts and Case Studies". The second keynote lecture of the day was given by Mehdi Sajid (Utrecht University), who spoke about his on-going project on the history of Islam in Morocco: "Inventing a Modern 'Arab-Muslim' Nation: Some Remarks on Morocco's Nation-Building process (1800s-present)". Afterwards, we were treated to a tour of the university building in which the Spring School took place, which actually used to be a large and rather impressive monastery.
Friday 16 June, the final day of this Spring School, began with a keynote lecture on sectarianism by Fanar Haddad (University of Copenhagen), "The non-sectarian boundaries of modern sectarian identities". This was followed by more papers by participants and a nice lunch at the end.
We can all look back on a successful, interesting and convivial Spring School in which we not only gained insights into a host of fascinating topics, but during which PhD-candidates were also given plenty of opportunities to discuss their work and interact with senior scholars in their field. Last but not least, there was plenty of time for participants to extend their network among their future colleagues. I am happy to say that everyone seemed to make great use of this possibility.
The NISIS team would like to thank our hosts in Catania, the keynote speakers, all participants, panel chairs and our ENIS partners who helped make this Spring School possible, including Pascal Buresi (CNRS, EHESS, CIHAM), Sophie Bilardello (CNRS, IISMM), Emmanuelle Gravejat (EHESS, IISMM), Maribel Fierro (CSIC, Madrid), Albrecht Fuess (CNMS/Philipps-University of Marburg) and Thijl Sunier (VU Amsterdam). We look forward to future opportunities to cooperate.

UCSIA and NISIS conference "Islam and the State"
On Friday 12 May 2023, the University Centre Saint-Ignatius Antwerp (UCSIA) and the Netherlands Interuniversity School for Islamic Studies (NISIS) organized a one-day conference on the topic of "Islam and the State" at the University of Antwerp. The day was opened by Barbara Segaert (project coordinator at UCSIA) and Joas Wagemakers (academic director at NISIS) and started with a session on Islam and the state in Lebanon. This session, which was moderated by Joas Wagemakers, included presentations by Ward Vloeberghs (senior lecturer in political science, Erasmus University Rotterdam), who spoke about Sunni Islamic "sectarian entrepreneurs" and how they have played a role in negotiating an identity in post-war Lebanon, and Roschanack Shaery-Yazdi (associate professor of history, University of Antwerp), who analyzed the politicization of the Shiite community in Lebanon since the 1960s, with a focus on Hizbullah since the 1980s.
After a nice lunch, the day continued with its second session, which focused on Morocco and was also moderated by Joas Wagemakers. The first speaker, Sami Zemni (professor of political and social science, Ghent University), discussed the historical role Islam has played in the legitimization of authority in Morocco and how the state has sought to create an "official Islam".  The second speaker in this session, Nina ter Laan (postdoctoral researcher, University of Cologne), built on this theme by concentrating on the aesthetic practices the Moroccan state employs to express this "Moroccan Islam", particularly through the promotion of Sufism and the heritagization of the country's Jewish history.
The third and final session of the day, moderated by Leni Franken (educational supervisor, University of Antwerp), was aimed at a broader audience and therefore conducted in Dutch. Its first speaker, Nadia Fadil (associate professor of social and cultural anthropology, Catholic University Leuven), spoke about the idea of a Belgian Islam, which she presented as ascribing too much coherence to both the Belgian state and Islam in Belgium. The second speaker of this session, Martijn de Koning (associate professor of Islam, politics and society, Radboud University Nijmegen), analyzed Islamophobia in the Netherlands and how the Dutch government's policies have affected this phenomenon.
Although there were some unfortunate problems in Dutch public transport on 12 May, forcing several students and PhD-candidates to cancel their participation, we nevertheless look back on an interesting day and a successful cooperation between our two organizations. We thank our UCSIA partners in Antwerp, Barbara Segaert and Gilke Gunst (who were also responsible for the photographs), and look forward to collaborating again in the future.
Henriëtte van Lynden lecture:
'A Decade after the Spring – The Arab World at Crossroads'
held by Amr Hamzawy on 15 December 2022
You can watch the recording of the lecture here.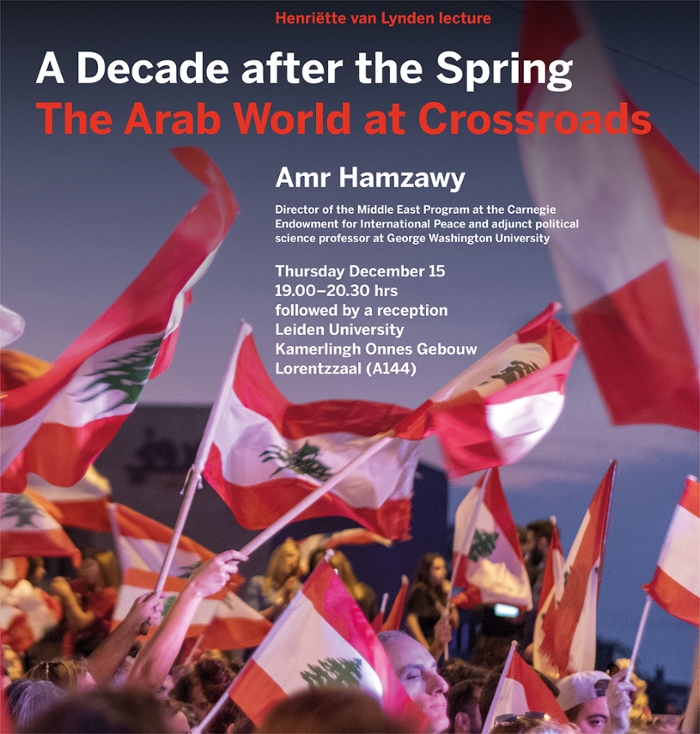 Workshop 'Political Mobilization and Democratic Breakthroughs' – 14 December 2022
This workshop, held by Dr. Amr Hamzawy, was organised in close collaboration with Leiden University and the Dutch Ministry of Foreign Affairs.
Mass politicisation mobilisation occurs in both democracies and autocracies. Sometimes political protests, demonstrations and acts of non-violent civic resistance undermine autocracies, produce democratic breakthroughs, or generate democratic reforms. Other times, they do not. This workshop explored, with a focus on the Middle East and North Africa (MENA), why, first examining the original causes of mobilization, some movements succeed and others fail.
The first session of the workshop reviewed theories of revolution, social movements, and democratization. The second session will dive into MENA case studies.
About the Speaker
Amr Hamzawy is the director of the Middle East Programme at the Carnegie Endowment for International Peace in Washington, DC. He studied political science and developmental studies in Cairo, The Hague, and Berlin. In the coming years, Amr Hamzawy will also teach at George Washington University in Washington DC. He was previously an associate professor of political science at Cairo University and a professor of public policy at the American University in Cairo. Hamzawy's research, teaching interests as well as academic publications focus on democratisation processes in Egypt, governance in the Arab world, and contemporary debates in Arab political thought. His recent book 'Struggles for Political Change in the Arab World' was published in October 2022.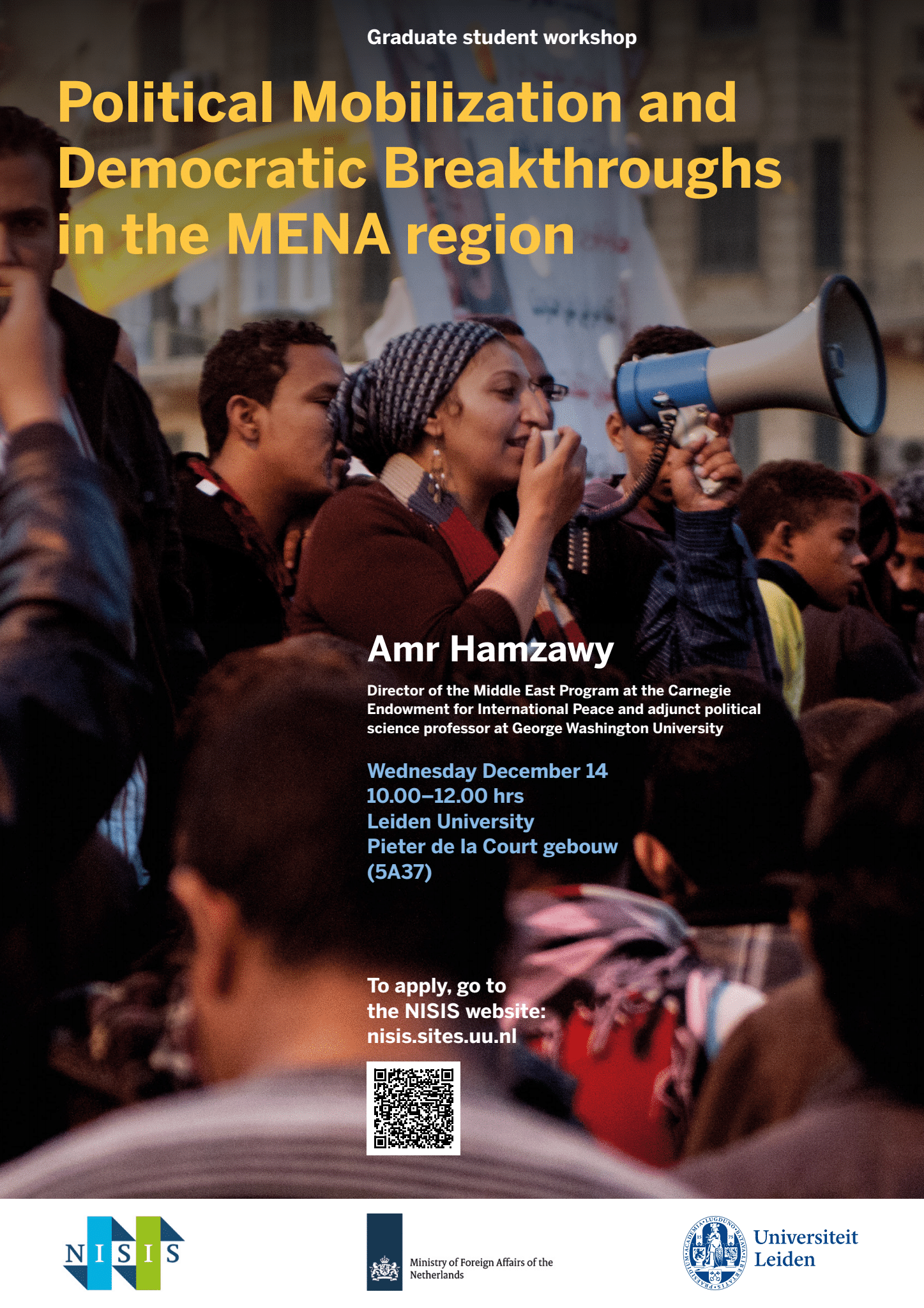 A look back at the Autumn School in Bonn
by PhD-students Laura Emunds and Nynke van Leeuwen
The Autumn School on Coercion, Slavery, and Relations of Dependency in the Islamicate World took place in Bonn (Germany) at the Bonn Center for Dependency and Slavery Studies (BCDSS) on 2-4 November 2022.The event was co-organised by the BCDSS and NISIS, the Netherlands Interuniversity School for Islamic Studies.
Thematically, the Autumn School tackled questions of coerced labour, slavery, and other forms of strong asymmetrical dependencies in historical and contemporary perspectives with a focus on Islamicate societies. Despite the fact that this might be considered a rather broadly outlined topic, already the opening keynote lecture given by one of the leading experts when it comes to the study of slavery in the Islamicate world, Prof. Dr. Ehud Toledano (University of Tel Aviv, Israel), showed the importance of comparative and global perspectives for this field.
The main goal of this event, however, was clearly to bring together and encourage discussions between young researchers working within their PhD-projects on various aspects related to the subject focus outlined above. In this regard, the organisers compiled a carefully selected range of thematic, theoretical, as well as methodological approaches to the topic: the talks given by the PhD-candidates focused on aspects of legal theory and practice, on experiences of enslaved and imprisoned people, on questions of class struggle and art production as well as on matters of coerced labour and the role of Orientalists who obtained knowledge with the help of unfree teachers.
Besides this, the participants were also encouraged to take part in four seminars in which further debates emerged naturally due to the more interactive format. The first seminar given by Assoc. Prof. Dr. Serena Tolino (University of Bern, Switzerland) was centred on eunuchs and questions located at the intersection of dependency, power, and gender. The second seminar was organized by the political analyst Dr. Sebastian Sons (CARPO, Germany) and allowed the students to learn more about relations of labour exploitation in the Arab Gulf States today. Conducted by Prof. Dr. Stephan Conermann (BCDSS), the third seminar was designed to introduce the PhD-candidates to the development and the theoretical framework of the Cluster of Excellence that stands behind the BCDSS. Here, the participants discussed in particular the difficulties, but also the merits of uncovering and defining common elements in an interdisciplinary research environment. The final seminar, which was given by Assoc. Prof. Dr. Paolo Gaibazzi (University of Bayreuth, Germany & University of Bologna, Italy), drew the participants' attention to questions of "post-slavery mobilities" and the highly important role of (im-)mobility for people affected by slavery, coercion, and other forms of "strong asymmetrical dependencies".
In summary, the Autumn School provided young researchers with a highly valuable and welcoming environment to not only present their own work and projects and receive useful feedback, but also to get into conversation with fellow PhD-candidates and experienced senior researchers in the field, in order to expand their own networks.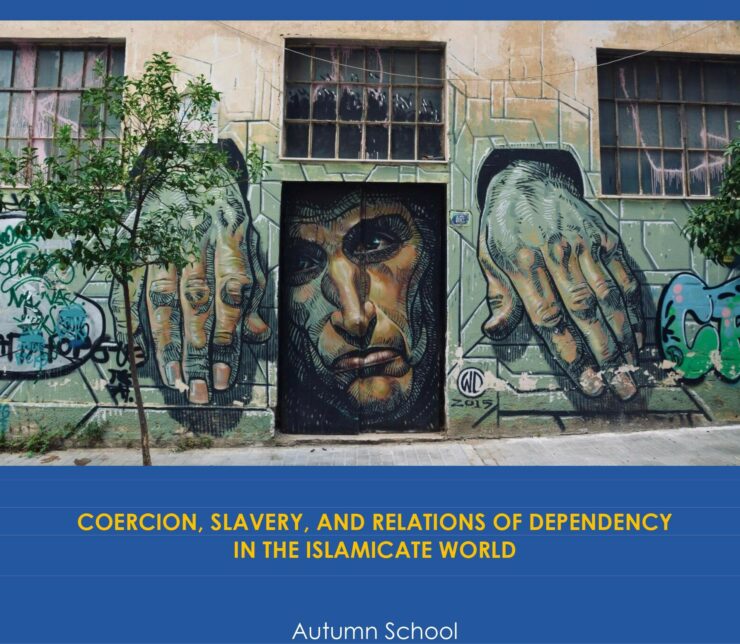 Film screening 'Somos Musulmanes'
On Friday evening 7 October 2022, NISIS invited filmmaker Dhia Ben Naser for the screening of the beautiful and surprising documentary 'Somos Musulmanes' (subtitled in English) at Pakhuis de Zwijger.
In the misty mountains of San Cristobal de Las Casas, Mexico, sheltered under improvised houses, lives a small Muslim community of Tzotzils, an ethnic group of Mayan descent. But what is their story? In the midst of the Zapatista Revolution, a movement that fought for the emancipation of indigenous peoples, a group of Sufi Muslims traveled from the Iberian Peninsula to Mexico, to the Chiapas region, with the idea that Islam would strengthen the revolutionary character of the movement. . Commander Marcos did not embrace this idea, but during their discussions several leaders of Tzotzil families converted to Islam, dramatically leaving Mexico's dominant Hispanic-Christian tradition behind. In doing so, they changed the fate of their clan…
A documentary by Unexpected Muslims
After the screening there was a Q&A with one of the filmmakers of Unexpected Muslims, Dhia Ben Naser. The documentary 'Somos Musulmanes' is in Spanish with English subtitles. Duration: 1 hour and 5 minutes. Entrance: free.
Check out the trailer of Somos Musulmanes: https://www.youtube.com/watch?v=cGR7qhURqX8&ab_channel=UnexpectedMuslims

A look back at the ENIS/NISIS- MIDA Summer School at Sunan Kalijaga University Yogyakarta, "Mobility and mobilization in Muslim societies," 20-24 June 2022
From June 20-24 this year, a group of 15 NISIS junior and senior members traveled to Yogyakarta, Indonesia, to attend the NISIS Summer School, co-organized by Sunan Kalijaga University and the EU-funded project "Mediating Islam in the Digital Age" (MIDA). Due to the pandemic, the event had been postponed not once but twice, which made it all the more special when it finally took place. It was a joyous week, with a rich programme of keynote and paper presentations and full of good conversations with our hosts, including the many local students. The hospitality of Prof. Noorhaidi Hasan and his excellent staff touched us deeply. All those who were there will cherish many good memories of the proceedings on Sunan Kalijaga University's beautiful campus, but also of the spectacular dinners and excursions that were organized collaterally.
The keynote lectures were provided by Claudia Derichs (Humboldt University Berlin), Edith Franke (Marburg University), Syafiq Hasyim (Indonesian International Islamic University, Jakarta), Istiqomah (State Institute of Islamic Studies, Ambon), David Kloos (Royal Netherlands Institute of Southeast Asian and Caribbean Studies, Leiden), Syamsul Rijal (State Islamic University of Syarif Hidayatullah, Jakarta), Sunarwoto (Sunan Kalijaga University, Yogyakarta), and Martin van Bruinessen (Utrecht University). The speakers reflected on the various levels in which mobility and mobilization in the Islamic world plays out, whether in terms of labor migration, traveling in search of Islamic knowledge (al-rihla fi talab al-'ilm), rural-urban movements, especially that of women, the circulation of knowledge by digital means, or the role of traveling objects and material practices in the mobilization of Islamic ideas across space and time.
In the imagination of scholars of Islam, Muslims and non-Muslims alike, Indonesia has traditionally been placed at the "periphery" of the Islamic world. Indonesia's long history of trade and knowledge relations with the rest of the Islamic world, and the two holy cities of Mecca and Medina in particular, added to the urgency and topicality of the Summer School. For us, the NISIS participants, it was fascinating to observe how the notion of Indonesian Islam's "peripherality" is in fact contested in Indonesia. The many advocates of the notion of Nusantara Islam (Indonesian Islam) seek to divest Indonesian Muslims, their beliefs and practices, of the stigma of marginality, not only because demographically speaking, Indonesia is not the periphery, but rather the center of the Islamic world, but also, because the way in which Islam has developed on the Indonesian archipielago opens up new horizons for thinking about the future of Islam in the 21st century.
The lasting impression of this year's Summer School, however, will be that of having (re)connected with the global scholarly community of Islamic Studies, beyond Covid and Zoom, and of having been the lucky guests of our wonderful Indonesian hosts. Terima kasih, accept love!
Christian Lange, 27 July 2022
NISIS Workshop Day 'Islam & the media' in collaboration with the NISIS Junior Council
20 May 2022, Utrecht University
On Friday the 20th of May, Research School NISIS organized a Workshop day about 'Islam & the media' for RMA and PhD students. After two plenary sessions, one with a keynote by dr. Martijn de Koning (Radboud University) and another Prof. Dr. Maurits Berger (Leiden University), there were two  workshops, both zooming in on the topic 'Islam & the media'(parallel workshops offered in English and Dutch).

Keynote lecture by prof. dr. Maurits Berger (Leiden University)
During this lecture, Maurits Berger discussed how academics can go out of their peer-review bubble to actively shape and participate in the discourse on Islam going on in the media. After his talk, there was be plenty of time for discussion.

Keynote lecture by dr. Martijn de Koning (RU)
"How will people see me?" – Dutch Muslims responding to the imagination of risk and Islam in Dutch policies and media and the construction of a regime of surveillance
O'Malley (2016: 86): "If it can be imagined, it must be governed."
In this lecture Martijn de Koning explored the construction of the figure of The Muslim through policies and media and the responses by Dutch Muslims. After a brief discussion about representation and the racialization of Muslims, he presented three vignettes to highlight different ways in which Muslims are related to danger and being out of place. The first one highlighted the normalization of seeing the Muslim male body as a representation of a concrete danger, the second pertained the Muslim female body as a representation of unwillingness to become and the third showed the erasure of particular representations. Together, de Koning suggested, these vignettes show how Muslims are interpellated as on ontological risk for Dutch society. Based upon his informal conversations, interviews and observations he then outlined the different types of responses to these imaginations and argued that they construct a regime of surveillance among Muslims.

Workshops
Islam and the media – NL
What do you encounter when you are an editor at a newspaper, a radio program or a TV station when it comes to reporting about the Islam or Muslims? In this practical, insightful and fun workshop, led by Ewoud Butter, you could gain experience first hand (for Dutch speakers only).
Muslims and Jews in the Media – a comparative study dating back to the 1900s – EN
This workshop was led by Prof. Thijl Sunier (also Chairman of the NISIS board) and was inspired by a dissertation of Aalt Smienk, one of his PhD students, who compares the reporting about Jews in 1900 with the reporting about Muslims in 2000. This research has been conducted with a quantitative tool which made it possible to analyze large quantities of newspaper articles published around 1900 in precisely the same way as newspaper articles published around 2000. By doing so, the researcher was able to avoid the so-called 'holocaust-bias'. Contemporary perceptions on the position of Jews in the late 19th century are strongly influenced by the murder on over 6 million Jews by the Nazi's. In this way the emancipation process of the two communities could be juxtaposed to explore differences and similarities.
Writing clinic
Together with the other participants, you could discuss a chapter of your master thesis or dissertation, or another dissertation-related paper you have finished writing or are still working on. This writing clinic gave you the opportunity to receive in-depth feedback from senior researchers other than your PhD supervisor(s), as well as from master and PhD peers.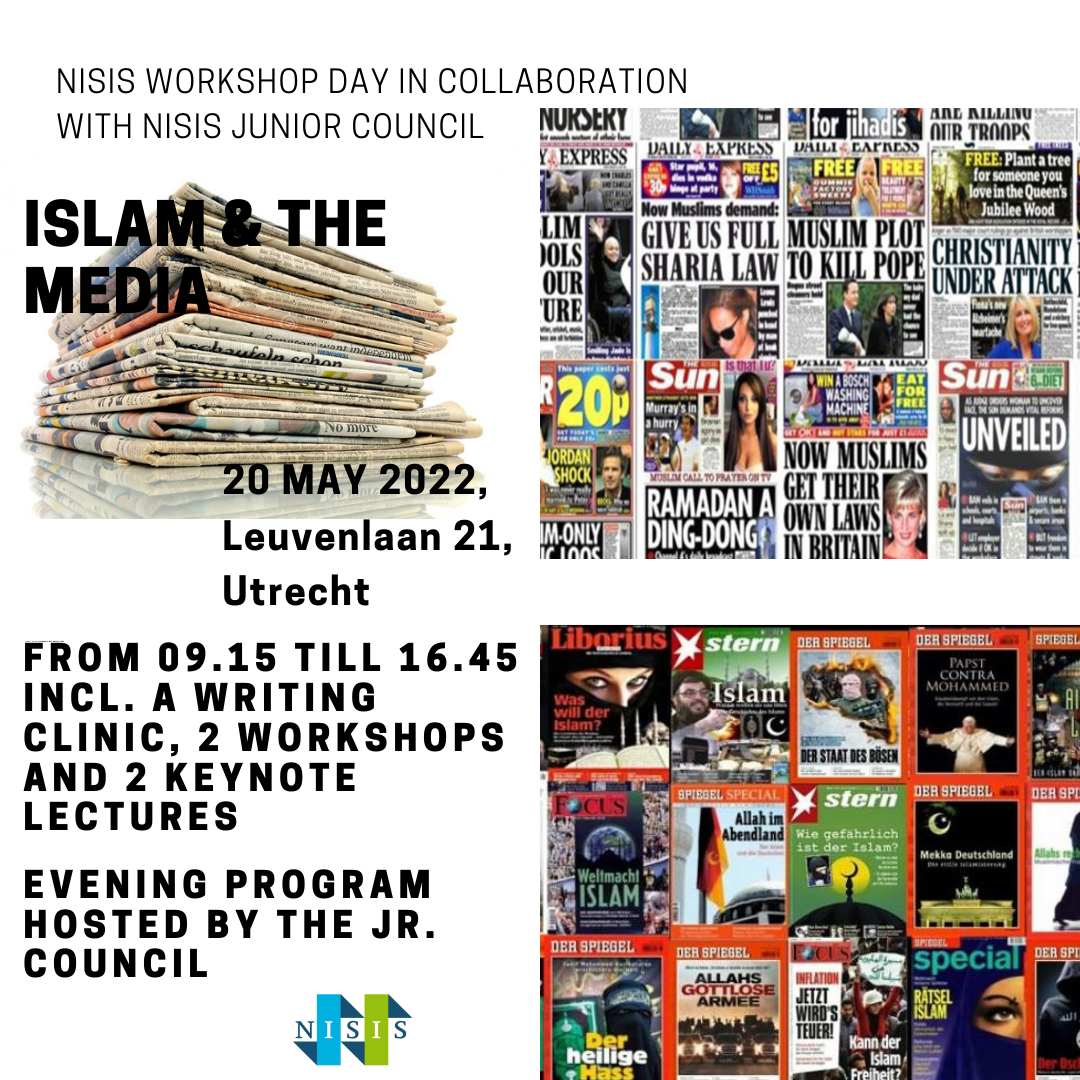 NISIS Autumn School: "Islamic(ate) Classics From Manuscript to the Digital Age"
8-12 November 2021, University of Leuven
In the fall of 2021 we all enjoyed some weeks with fewer restrictions. The Autumn School, which took place in Leuven from 8 to 12 November, was one of the events we were able to celebrate live – and what an inspiring and pleasant event it was!
Following up on Ahmed El Shamsy's widely discussed recent book, Rediscovering the Islamic Classics: How Editors and Print Culture Transformed an Intellectual Tradition (2020), the Autumn School focused on the impact of technological changes on Islamic(ate) primary sources and scholarship not only in the transition from the manuscript to the printing age, but up until the current digital era as well. El Shamsy, a professor at the University of Chicago, opened the school on Monday with a lecture entitled "The availability of Arabic books, 1800 to the present". Our view of the Arabic written textual heritage, as he pointed out, is skewed by the notion of "classics": a lot more remains to be discovered!
The other keynote lectures, by Beatrice Gründler (Free University Berlin), Peter Verkinderen (KITAB project London) and Brinckley Messick (Columbia University New York), as well as a workshop on Digital Humanities led by Emad Mohamed (University of Wolverhampton), continued this theme, and the many excellent student and PhD presentations, including from young researchers joining us from Egypt and other parts of the Islamic world, contributed further aspects. As always, it was a pleasure to listen to the NISIS junior members present their ongoing research (on topics as diverse as Islamic theology, the history of Orientalism, Islamic bedtime stories, and Russian Islam, to name just a few), and to welcome the new members.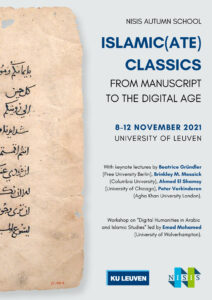 OSL/NISIS Workshop: "Muslim Words/World Literatures"
12 February 2021, Online
The online workshop "Muslim Worlds/World Literatures" was hosted in collaboration with the Research School for Literary Studies (OSL) and organized by Dr. Alberto Godioli (OSL, RUG) and Prof. Christian Lange (NISIS, UU).
The workshop consisted of three online sessions led by international experts in Islamic and/or literary studies: Dr. Petra de Bruijn (Leiden University), Dr. Hiyem Cheurfa (Lancaster University), Dr. Richard van Leeuwen (University of Amsterdam) and Dr. Liesbeth Minnaard (Leiden University).
Program
12:00-14:00: Seminar led by Dr. Richard van Leeuwen and Dr. Hiyem Cheurfa (on the reception and contemporary influence of One Thousand and One Nights)
15:00-17:00: Seminar led by Dr. Petra de Bruijn and Dr. Liesbeth Minnaard (on religion and secularism in 20th- and 21st-century literature)
17:15-17:45: Wrap-up activity and final remarks
NISIS Masterclass 'The Past and Future of Islamic Studies' #3: "Environmental Studies"
28 January 2021, Online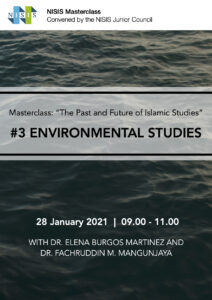 The third session of the NISIS Masterclass series "The Past and Future of Islamic Studies" took place on 28 January 2021. During this Masterclass session we zoomed in on scholars who have dedicated their work to ecological and urban environments.
Dr. Elena Burgos Martinez (LIAS, Leiden University) gave a lecture on "Water relations in maritime and island Islam: a brief journey through environmental dreams in Eastern Indonesian islands" and Dr. Fachruddin M. Mangunjaya (Universitas Nasional) spoke about "Developing Environmental Awareness and  Conservation through Islamic Teaching" as well as "The Fatwa in Boosting Environmental Conservation in Indonesia."
NISIS Autumn School 'Shrine Cultures in the Islamicate World'
8-9 October 2020, Online
On 8 and 9 October 2020, our annual NISIS Autumn School took place. We want to thank Gabrielle van den Berg (Leiden University) and Dick Douwes (Erasmus University Rotterdam) for organizing this year's school on "Shrine Cultures in the Islamicate World."
On 8 October we listened to a wonderful keynote lecture by prof. Jo-Ann Gross (The College of New Jersey) about "The 'Shrinescapes' and Narrative Traditions of Khoja Isḥāq Khuttalānī." Afterwards Habeeb ur Rehman (Aga Khan University London) and Ruben Elsinga gave a presentation about life at the Rehmania darbar, a large shrine in the city of Haripur in Pakistan, where Habeeb became the pir recently. The afternoon was closed with a panel discussion with Gabrielle van den Berg, Dick Douwes, Christian Lange and Elena Paskaleva. On 9 October we continued the Autumn School with a succesful Chapter Clinic during which six PhD candidates and RMA students received feedback on a chapter of their work. We want to thank all contributors for making this another great edition of our Autumn School!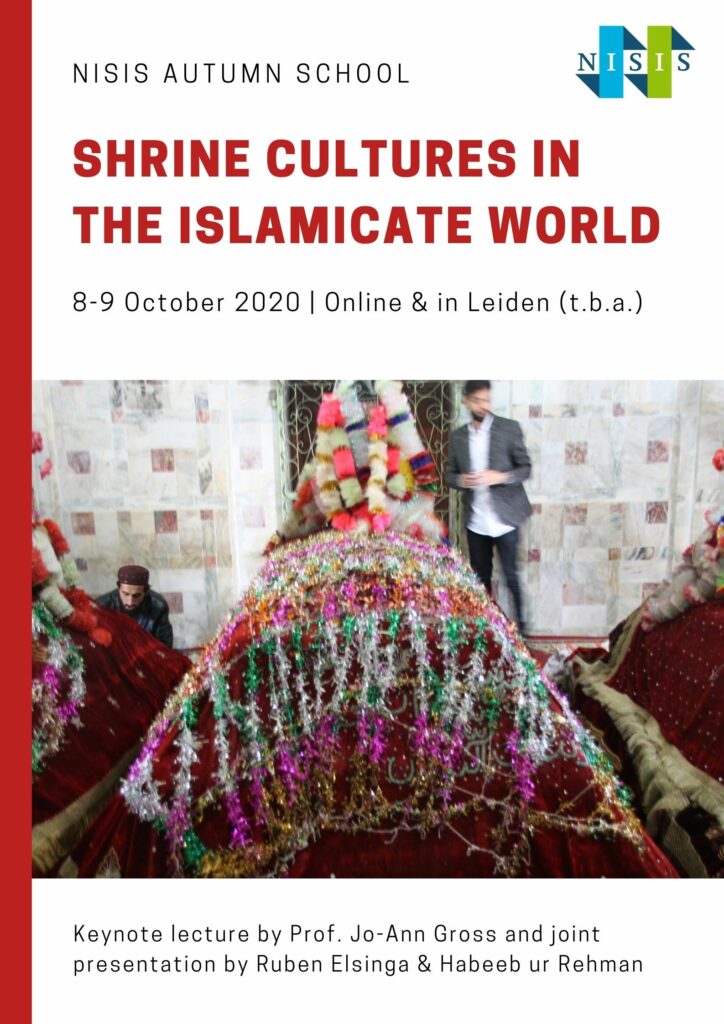 ---
NISIS Masterclass 'The Past and Future of Islamic Studies' #2: "Arts and Media"
1 October 2020, Online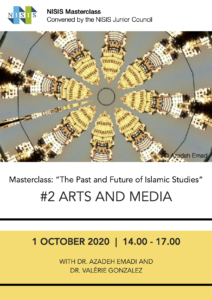 The second session of the NISIS Masterclass series "The Past and Future of Islamic Studies" took place on 1 October 2020. In this session we looked at Islamic art and media together with Dr. Valérie Gonzalez (SOAS University of London) and Dr. Azadeh Emadi (University of Glasgow).
---
NISIS Masterclass 'The Past and Future of Islamic Studies'
#1: 'Interdisciplinarity in the Study of Islam and of Islamic History'
7 July 2020, Online
On Monday the 7th of July, the first session of the NISIS Masterclass "The Past and Future of Islamic Studies" took place. The masterclass series is organized by the Junior Council, and its first session was themed "Interdisciplinarity in the Study of Islam and of Islamic History." Lectures were given by  dr. Edmund Hayes, prof. Aaron Hughes and prof. Christian Lange. Below you can find some snapshots of the online session. We want to thank all speakers and participants for their contributions.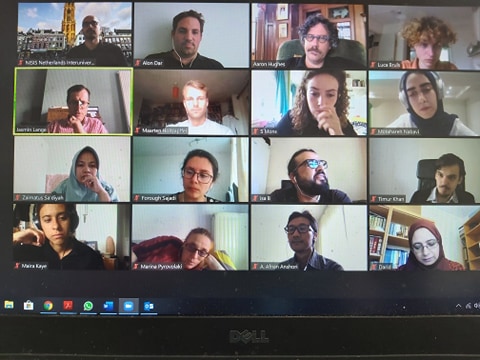 Program
14:00 – 14:15: Introductory remarks
14:15 – 15:15: 
Prof. Aaron Hughes
Trends in Islamic studies in general — with a focus on insider/outsider, critic/caretaker — and how they pertain to the study of early Islam in particular. His talk will be followed by a round of discussion. 
15:15 – 15:30: Break
15:30 – 16:15
: 
Prof. Christian Lange
Why it is relevant and important to study the Muslim hell (20-30 minutes talk followed by discussion). 
16:15 – 17:00: 
Dr. Edmund Hayes
Shii Studies or Social history (20-30 minutes talk followed by discussion).
---
ENIS/MIDA Summer School: 'Contesting Authority: Knowledge, Power and Expressions of Selfhood'
22-26 June 2020, Online
Keynote lectures were be given by Marjo Buitelaar (University of Groningen), Suad Joseph (University of California, Davis), Hilary Kalmbach (University of Sussex), Siobhan Lambert-Hurley (University of Sheffield), Arshad Muradin (Leiden University) and Muhammad Qasim Zaman (Princeton University). Furthermore, there was a masterclass by Albrecht Fuess (Philipps-Universität Marburg) and Gerard Wiegers (University of Amsterdam): "What is Islam?" Definitions and Interdisciplinary Approaches between the Middle Ages and the Digital Age.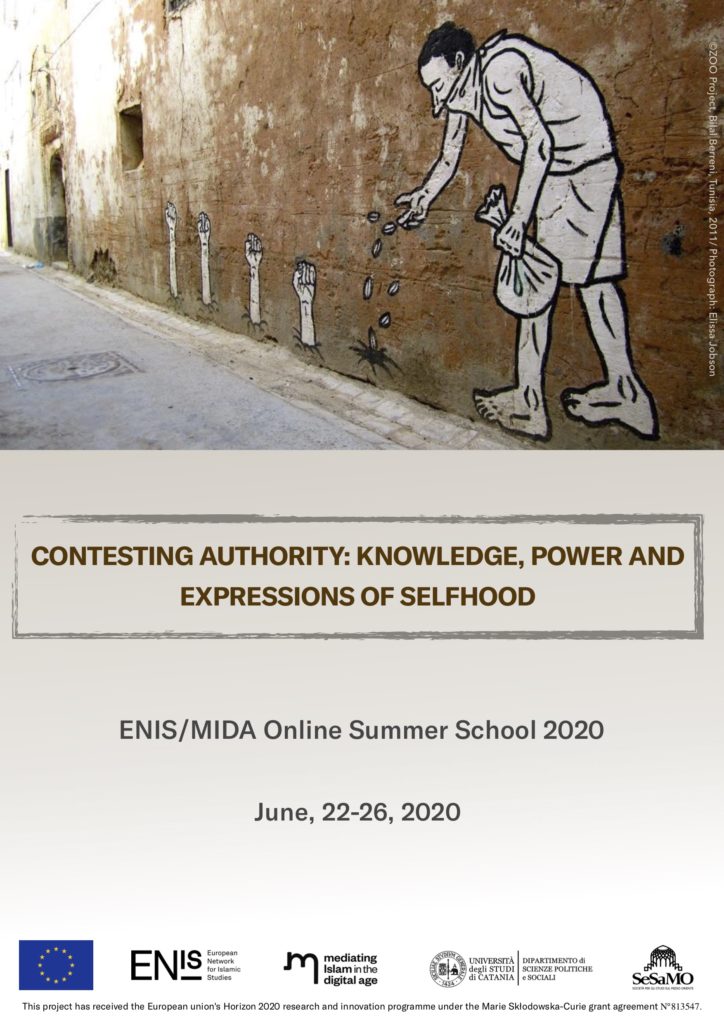 ---
Seminar 'Islam and Diversity'
17 January 2020, Maastricht University
NISIS organized the one-day seminar 'Islam and Diversity' in collaboration with Maastricht University in the beautiful city of Maastricht. It was a full program with many interesting talks and discussions. In the morning we listened to the keynote lectures given by PD Dr. Gabriele Dietze and Dr. Imen Gallala-Arndt, and in the afternoon we headed off to different workshops related to the topics of Law, Civil Society and Gender & Diversity. PhD candidates presented their work on varying topics like the lack of representation of black Muslim scholars in academia, legal practices of Sub-Saharan migrants in Morocco and new forms of Islamic authority in Belgium. Below are some impressions of the day. We want to thank all the participants for making this a wonderful event!
---
NISIS Autumn School 'Islamic and Middle Eastern Studies in the Digital Age'
28-31 October 2019, Utrecht University
This year Utrecht hosted the NISIS Autumn School. We heard some sparkling keynotes: Cornelis van Lit and Jo van Steenbergen spoke about digital/computational methods, and did so in rather opposite terms (Cornelis: "You can do it!" vs Jo: "It's great, but beware of DH amnesia!"). Mirjam Shatanawi, Mona Abdel-Fadil and Bettina Gräf addressed different aspects of doing Islamic Studies online (Mirjam talked about online repositories and museum catalogues, Mona about affect theory and how it can be used to analyze social media, Bettina about online fatwas and the pitfalls of web-based ethnography).
The workshop "Introduction to Digital Humanities" on Wednesday (with contributions from Cornels van Lit, Mehdi Sajid, developers Yusuf Celik and Dirk Roorda, and IT-officer Etienne Posthumus [Brill]) was very well-attended. It revealed how much potential there is in DH but also what kind of skills we, as digital-born (or at least digitally interested) reseachers, still need to develop – to be continued!
The fim screening (the documentary about Umar Ryad's recently concluded ERC project on Muslim in interwar Europe) and the borrel we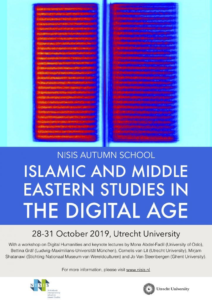 re a delight. And last but not least, we had some very robust panels with great contributions from junior NISIS members and guest PhD researchers. International participants came from the Emirates, France, Germany, and many other places.
Thank you to all who came and contributed, even if it meant showing up to only one of the panels, keynotes, or borrels. NISIS is not something that we do "in addition" to all the other things we do, it is literally where Islamic Studies "happens" in the Netherlands. We are currently reevaluating the format of the Autumn School, to make sure we stay abreast of developments and offer content that is relevant to us all. So: watch this space!
---
ACMES/NISIS Workshop 'Islamic and Middle Eastern Studies in Dialogue'
24 May 2019, University of Amsterdam


"Participating in the workshop "Islamic and Middle-Eastern Studies in Dialogue" provided me with valuable insights about the bridges and divides between the two disciplines. The variety of well-established speakers from different fields such as political science, anthropology, history and law showed us the methodological and theoretical diversity within the realm of Islamic and Middle-Eastern studies."
– Semiha Sozeri, PhD candidate (University of Amsterdam)
Program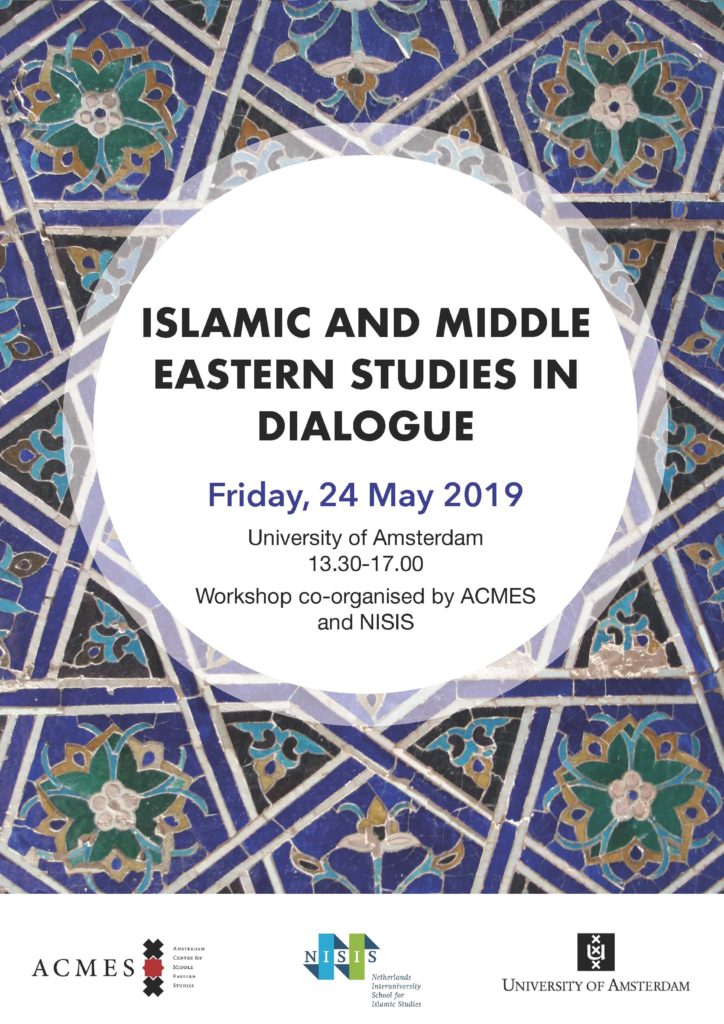 13.30-13.40: Welcome by Prof. Christian Lange
13.40-15.00: Session 1: Authority
Thijl Sunier (VU Amsterdam) and Farid Boussaid (UvA)
15.00-15.30: Coffee and tea
15.30-17.00: Session 2: Power
Maaike Voorhoeve (UvA) and Gerard Wiegers (UvA)
17.00: Drinks
---
NISIS Spring School 'Patronage and Clientelism in the Muslim World'
18-22 March 2019, Granada, Spain
Pictures by Burak Fiçi and Aleksi Hämäläinen.
"The ENIS Granada Spring School 2019 was a wonderful experience for me. Besides meeting great professors and young scholars, the school taught me about how religions are deeply manifested in every corner of the city. The experience was breathtaking."
– Anwar Masduki, PhD candidate (University of Groningen)
"The NISIS Spring School in Granada presented a fantastic opportunity to share my research in a supportive environment. Being able to network and discuss new ideas, as well as shared interests with an international group of scholars from various disciplines, is a priceless experience."
– Aleksi Hämäläinen, RMA student (Utrecht University)
"The ENIS Spring School was the perfect opportunity to meet colleagues from all around Europe. It helped me greatly in advancing my own research."
– Alon Dar, PhD candidate (Leiden University)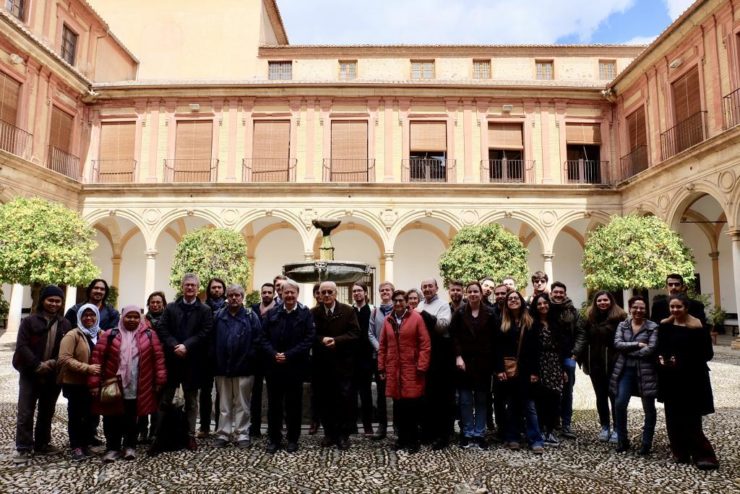 ---
NISIS/NOSTER Network Meeting
8 February 2019, Utrecht University