News
NISIS Masterclass #1: "Interdisciplinarity in the Study of Islam and of Islamic History"
On Monday the 7th of July the NISIS Junior Council hosted the first successful session of the NISIS Masterclass Series "The Past and Future of Islamic Studies." The theme of the first session was "Interdisciplinarity in the Study of Islam and of Islamic History." We want to thank the speakers dr. Edmund Hayes, prof. Aaron Hughes, prof. Christian Lange and all participants for their contributions!
The next session of the Masterclass Series "Arts and Media" will take place in September 2020. More information about the event will be made available soon.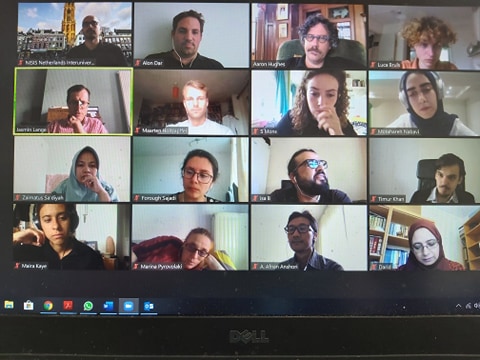 Program
14:00 – 14:15: Introductory remarks
14:15 – 15:15: 
Prof. Aaron Hughes
Trends in Islamic studies in general — with a focus on insider/outsider, critic/caretaker — and how they pertain to the study of early Islam in particular. His talk will be followed by a round of discussion. 
15:15 – 15:30: Break
15:30 – 16:15
: 
Prof. Christian Lange
Why it is relevant and important to study the Muslim hell (20-30 minutes talk followed by discussion). 
16:15 – 17:00: 
Dr. Edmund Hayes
Shii Studies or Social history (20-30 minutes talk followed by discussion).