News
Muslim Women's Pilgrimage to Mecca and Beyond. Edited by Marjo Buitelaar, Manja Stephan-Emmrich and Viola Thimm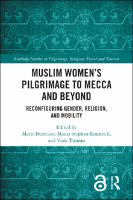 The new Open Access publication Muslim Women's Pilgrimage to Mecca and Beyond. Reconfiguring Gender, Religion, and Mobility. edited by Marjo Buitelaar, Manja Stephan-Emmrich and Viola Thimm is now available.
This book investigates female Muslims pilgrimage practices and how these relate to women's mobility, social relations, identities, and the power structures that shape women's lives. Bringing together scholars from different disciplines and regional expertise, it offers in-depth investigation of the gendered dimensions of Muslim pilgrimage and the life-worlds of female pilgrims. With a variety of case studies, the contributors explore the experiences of female pilgrims to Mecca and other pilgrimage sites, and how these are embedded in historical and current contexts of globalisation and transnational mobility. This volume will be relevant to a broad audience of researchers across pilgrimage, gender, religious, and Islamic studies.
Click here to read and download this title.