Past Events
Seminar 'Islam and Diversity'
On January 17 we organized the one-day seminar 'Islam and Diversity' in collaboration with Maastricht University in the beautiful city of Maastricht. It was a full program with many interesting talks and discussions. In the morning we listened to the keynote lectures given by PD Dr. Gabriele Dietze and Dr. Imen Gallala-Arndt, and in the afternoon we headed off to different workshops related to the topics of Law, Civil Society and Gender & Diversity. PhD candidates presented their work on varying topics like the lack of representation of black Muslim scholars in academia, legal practices of Sub-Saharan migrants in Morocco and new forms of Islamic authority in Belgium. Below are some impressions of the day. We want to thank all the participants for making this a wonderful event!
---
NISIS Autumn School 'Islamic and Middle Eastern Studies in the Digital Age'
Last week, Utrecht hosted this year's NISIS Autumn School. We heard some sparkling keynotes: Cornelis van Lit and Jo van Steenbergen spoke about digital/computational methods, and did so in rather opposite terms (Cornelis: "You can do it!" vs Jo: "It's great, but beware of DH amnesia!"). Mirjam Shatanawi, Mona Abdel-Fadil and Bettina Gräf addressed different aspects of doing Islamic Studies online (Mirjam talked about online repositories and museum catalogues, Mona about affect theory and how it can be used to analyze social media, Bettina about online fatwas and the pitfalls of web-based ethnography).
The workshop "Introduction to Digital Humanities" on Wednesday (with contributions from Cornels van Lit, Mehdi Sajid, developers Yusuf Celik and Dirk Roorda, and IT-officer Etienne Posthumus [Brill]) was very well-attended. It revealed how much potential there is in DH but also what kind of skills we, as digital-born (or at least digitally interested) reseachers, still need to develop – to be continued!
The fim screening (the documentary about Umar Ryad's recently concluded ERC project on Muslim in interwar Europe) and the borrel we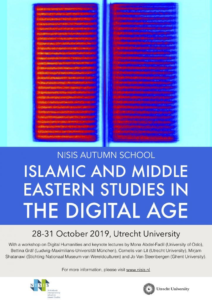 re a delight. And last but not least, we had some very robust panels with great contributions from junior NISIS members and guest PhD researchers. International participants came from the Emirates, France, Germany, and many other places.
Thank you to all who came and contributed, even if it meant showing up to only one of the panels, keynotes, or borrels. NISIS is not something that we do "in addition" to all the other things we do, it is literally where Islamic Studies "happens" in the Netherlands. We are currently reevaluating the format of the Autumn School, to make sure we stay abreast of developments and offer content that is relevant to us all. So: watch this space!
---
ACMES/NISIS Workshop 'Islamic and Middle Eastern Studies in Dialogue'
24 May 2019, University of Amsterdam


"Participating in the workshop "Islamic and Middle-Eastern Studies in Dialogue" provided me with valuable insights about the bridges and divides between the two disciplines. The variety of well-established speakers from different fields such as political science, anthropology, history and law showed us the methodological and theoretical diversity within the realm of Islamic and Middle-Eastern studies."
– Semiha Sozeri, PhD candidate (University of Amsterdam)
Programme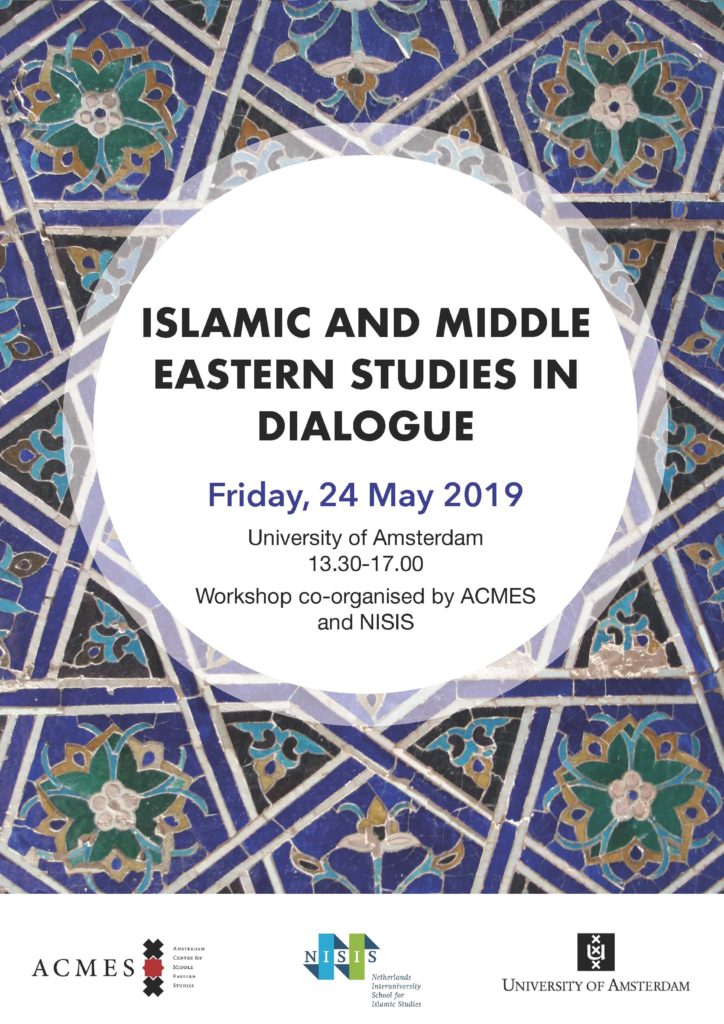 13.30-13.40: Welcome by Prof. Christian Lange
13.40-15.00: Session 1: Authority
Thijl Sunier (VU Amsterdam) and Farid Boussaid (UvA)
15.00-15.30: Coffee and tea
15.30-17.00: Session 2: Power
Maaike Voorhoeve (UvA) and Gerard Wiegers (UvA)
17.00: Drinks
---
NISIS Spring School 'Patronage and Clientelism in the Muslim World'
18-22 March 2019, Granada, Spain
Pictures by Burak Fiçi and Aleksi Hämäläinen.
We have put together some of the footage taken by Aleksi Hämäläinen during the Spring School in Granada this year. Enjoy the video!

Geplaatst door NISIS op Vrijdag 19 juli 2019
"The ENIS Granada Spring School 2019 was a wonderful experience for me. Besides meeting great professors and young scholars, the school taught me about how religions are deeply manifested in every corner of the city. The experience was breathtaking."
– Anwar Masduki, PhD candidate (University of Groningen)
"The NISIS Spring School in Granada presented a fantastic opportunity to share my research in a supportive environment. Being able to network and discuss new ideas, as well as shared interests with an international group of scholars from various disciplines, is a priceless experience."
– Aleksi Hämäläinen, RMA student (Utrecht University)
"The ENIS Spring School was the perfect opportunity to meet colleagues from all around Europe. It helped me greatly in advancing my own research."
– Alon Dar, PhD candidate (Leiden University)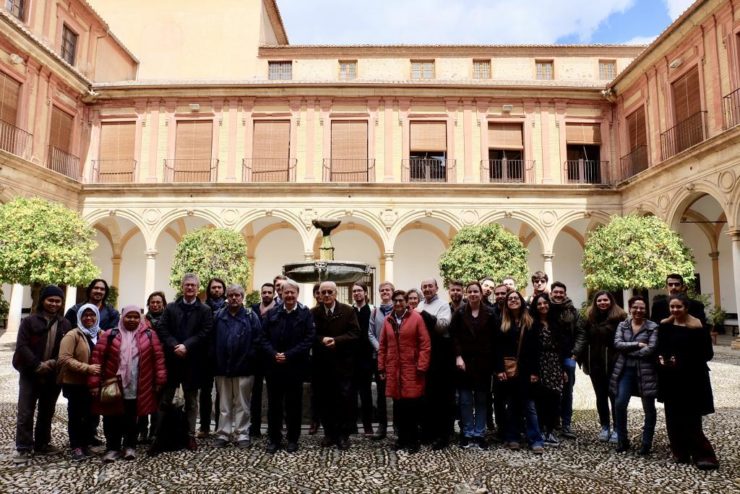 ---
NISIS/NOSTER Network Meeting
8 February 2019, Utrecht University