Agenda
6 October 2023
20:00 - 22:00
Pakhuis de Zwijger, Amsterdam
In the footsteps of Hui people by Unexpected Muslims
A film by Dhia Ben Naser, Gabriel Marchand and Ouissem Satouri.
Free admission
To attend the event, please register here (on the website of Pakhuis de Zwijger) by clicking the button 'make a reservation' (top right).
It was on the western border of the Middle Kingdom, on the Silk Road, in Lanzhou, Linxia and Yinchuan, that we decided to put our backpacks down. These cities in central China, which proudly display magnificent mosques in Chinese, Persian, Turkish and Arabic styles, are key halting-places in meeting the Hui people: the majority Muslim ethnic group in China. But where do the Hui come from? Why do they enjoy, unlike their Uyghur co-religionists, this relative freedom of worship? What relations do they have with the Muslim world and the various Chinese powers? So many questions that will lead us from meeting to meeting in the footsteps of this ethnic group.
After the screening Sara Muller will interview one of the filmmakers of Unexpected Muslims, Dhia Ben Naser. The documentary 'In the footsteps of Hui people' is subtitled in English.
Duration: 45 minutes
check out the trailer of the documentary here.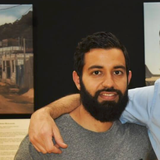 Dhia Ben Naser became passionate about filmmaking during his early years of economic studies at the university. Autodidact, he first started producing music videos and short films, before gradually turning to documentary filmmaking with Repères & Vocations. It is within this framework that he co-directed three documentaries, 'Road to Sarajevo', 'On the footsteps of the Hui people' and 'Somos Musulmanes'.